"Love of Beauty is Taste
The Creation of Beauty is Art R. W Emerson​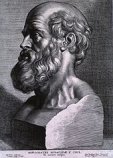 Antosa's  love of  Art and the 'Art of Medicine' is portrayed so beautifully throughout Ancient times and is  epitomised in Ancient Greek Religion, Mythology & Art.
As  a former London  Harley Street Consultant in Holistic Health & Beauty, & with two immediate members of my own family practicing medicine (one as a surgeon) one must always recall to heart the ancient writings of

 Hippocrates
( Right: Engraving of Hippocrates by Peter Paul Ruben 1638) 
Hippocratic Oath 'Quote':
"I will remember that there is 'Art to Medicine' as well as 'Science', and that warmth, sympathy, and understanding may outweigh the surgeon's knife or the chemist's drug.
I will prevent disease whenever I can, for prevention is preferable to cure"
Asclepius  & his daughters
The Ancient Greek Gods & Goddesses of Health & Beauty
 Asclepius was a god of medicine in ancient Greek religion and mythology.

(right:) Hygieia: was the goddess/personification of health cleanliness and hygiene

While her fatherAsclepius was more directly associated with healing, she was associated with the prevention of sickness and the continuation of good health.
(left: The bowl of Hygieia) has been used as a symbol of the pharmacy professional at least as far back as 1796, when it was used on a coin minted for the Parisian Society of Pharmacy.
Panacea  was a goddess of Universal remedy.
Panacea was said to have a poultice or potion with which she healed the sick. This brought about the concept of the panacea in medicine a substance meant to cure all diseases.
(Right : Panacea (center) administering medicine to a baby (Picture of the Veronese physician J. Gazola as part of a larger woodcut, 1716)

Iaso was the goddess of recuperation from illness.
(Left :)The Cadmus Painter - Attic red figure urn
Cropped image of Iaso from a Greek urn
Detail of Iaso, the goddess of healing, from a scene depicting a group of goddesses. Iaso gazes at herself in a mirror, presumably as a sign of good health.












Aglaea,the goddess/personification of the glow of good health




Aceso:goddess of the healing process




I loved the words of this song (words below)which I have dedicated to all within the 21st Century medical profession including carers and anyone who cares for any living creature great or small  & a salute to the Ancient Gods & Goddesses of Health & Beauty!'

The Seikilos epitaph'  is the oldest surviving example of a complete musical composition, including musical notation, from anywhere in the world.




"While you live, shine

Don't suffer anything at all;

Life exists only a short while

And time demands its toll."




Enjoy the music and have a wonderful creative day!

L Antosa x

















0

/